Activities
Here at Sumatra Surf Resort there's no structured activities, we don't throw you on  tourist buses and shuttle you  here and there. You've come here to surf and relax  afterwards with a few cold frothies on our look out tower or  beach deck. Do as much or as little as you want to do. It's a relaxed and laidback environment down here no hassles and no worries so forget the hustle and bustle and settle into "our time zone". Our Warung has a pool table, poker table, Satellite TV's for watching sport, chill zone to relax and watch the "WSL", or surf the net with our free Wi-Fi.If you want to learn how to cook great tasting Indonesian food our resident cooks are  always happy to put on a cooking class and best of all you get to eat what you make!! If you're feeling sporty we've got footys to have a kick with your mates or a game of touch or volleyball. Grab some of our fishing gear and go and try and catch dinner out on the reef. When the sun goes down and dinner's over gather round the bar for a few ice cold beers and regale us with your surf today.
If you're into the touristy stuff and would like to explore this beautiful area with its many attractions here's some of the things we can organize for you. Please remember that most of these activities are run by our local friends  and are sometimes unavailable and never have a set schedule.  At least 24 hours notice is required to check availability and cost. Other things like river depth and health and availability of Elephants are beyond our control. Click here to download our "Adventure Tours " Brochure.
---
Pulau Pisang
Also known as "Banana Island", it's known for its beautiful beaches and amazing views back to the mainland. It's about a 3 hour drive plus canoe ride to the island. Good spot to surf, fish, swim and snorkel. Well worth the trip if the wind is right. It's a full day trip.
---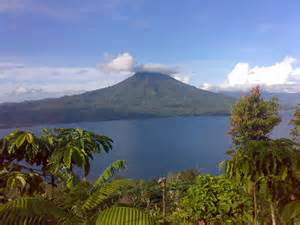 Danau Ranau
About 2 ½ hours' drive from the Resort is the volcanic lake Danau Ranau. It's a very spectacular spot known for its natural beauty and soothing hot springs. A great way to soothe those aching muscles. Allow the best part of a day for this trip.
---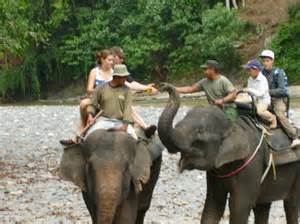 River Canoe and Jungle Trekking
Sumatra is world famous for its diverse range of animal life including the Sumatran Tiger and Orang-utan which roam free in the jungle. Bring your camera and be amazed at the wildlife and stunning waterfalls. Guided treks  from the resort can be arranged. Elephant trekking is currently unavailable as the elephant is sick.
---
Fishing
Charter a traditional fishing canoe with a guide and get amongst the Sailfish, Spanish Mackeral and GT's which cruise along the reef. Early morning or late afternoon is best we'll even cook your catch for you to enjoy.
---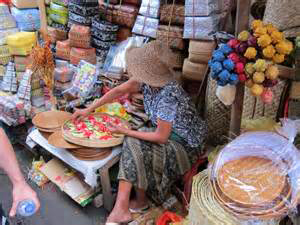 Krui Markets
Situated in the town of Krui some 30 km's away is Krui Markets. This is a real market with the local people offering local produce and goods. Try your bargaining skills with the many vendors. A fun way to spend a few hours.
---