Best Time to Come
The main surf season runs from April-November the Roaring Forties  send plenty of 6-12ft (2-4m) swells through April-November ( High Season ). The SSW direction is ideal for our  SW facing area. Cross-shore winds are the rule as Lampung means "place of the southerly winds". The SE trade wind season starts in May with mild winds getting stronger towards the end of the season in October.
Sumatra Surf Resort faces Ujung Bocor, the area's longest and best left handed reef break. It ranges in scope from heavy dredging barrels to long carveable down the line performance walls with rides in excess of 200 meters. Ujung Bocur is extremely consistent and handles large swells well. In addition, the sheer length of the wave spreads out almost any crowd.
Things to Know
Put a few boards in your quiver.
Booties are a good idea but not essential.
There's a wave for every level of surfer.
Sup's, Mal's and body boarders surf here.
There is a good ding repair shop close by.
You can buy wax, fins,leashes and hire boards at the surf shop nearby.
Water temp is around 27 degrees.
Our guides speak English
No charge for our surf guides if surfing local breaks.
Bring a first aid kit.
Surf photography can be organised at cost.
Check out the latest forecast here
Here's a rundown of some of the more popular spots in the area and what they offer. The roads to these spots are all pretty good now. Don't know where they are? Our surf guides are happy to take you!
Mandiri Beach
About 15 minutes north is a stretch of open beach called Mandiri, a length of South-West facing beach break.But get there early before the wind does. These banks can be awesome on their day, but being a beachie its always "right time, right place."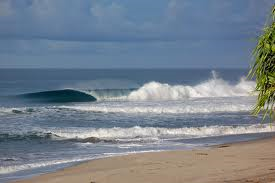 The Peak, Krui Left, Krui Right
A further 15 minutes up the road and you are in the township of Krui, which has a variety of reef breaks, particularly good when the swell starts to creep up on the Point. The main ones are The Peak and Krui Right and Left. All are beautiful fun waves when the swell is too big back at the resort.Not a good idea to surf the right when the creek is open as the locals use it as a toilet and tip.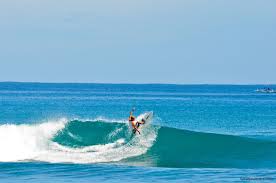 Banana Island
Continuing north there are numerous beach breaks,  but the main stop is Banana Island. This is accessible only by boat, with a quality right hander on one side and a screaming left on the other. Not many people surf out there and if there is a nice swell running and your adventure streak is high it could reward you with incredible waves!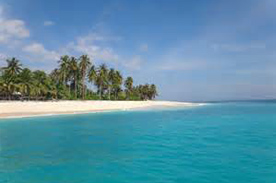 Jenny's Right
After here the next stop is Jenny's right. It's about an hour or so from our resort. It's offshore over the rainy season or if the winds swing onshore at the Hotel. A fun right hand reef break running for 100 meters,  with a couple of barely and long walling sections that can break on all tides. Early mornings sessions there can give some beautiful waves. It was named Jenny's Right after Jenny Sheehan, a well know Sydney surfer who beat everyone out the back and caught the first known wave to be ridden there.
Honey Smacks Jimmy's Right and Left
About another 15 minutes up the road is Honey Smacks, a barrelling left hander more suited to the bodyboarders and a bit further on is Jimmy's Right and Left. Best to check conditions before heading off. These are pretty serious waves and if you venture out there you're guaranteed to come back happy!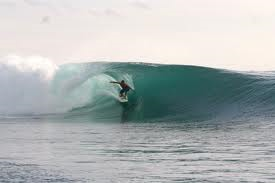 Way Jambu
Heading south from the camp also offers a variety of waves, the first and most famous being Way Jambu. It is one of the heaviest left-hander barrels, hence it's nick name "Sumatran Pipeline". This ruler edged, spitting beast is truly a word class wave. Low tide can be a scary take off with the water sucking off the reef just in front of you. Don't look, just go and you'll either get smashed or get the barrel of your life.