Well we are now coming into the start of the 2016 season, and if the pre-season swells are anything to go by, it's gearing up to be a great few months!
Here on the blog we will be posting pictures and stories throughout the season, keeping you up to date with goings on here in the Sumatran jungle.
This years pre-season has been fairly quiet, with the late arrival of the trade winds deterring many of the Australian travellers from booking trips until later in the season. Lucky for those of us here already, that means beautiful uncrowded breaks and your pick of the spots in any conditions. Even when the surf report has said 'flat', we've always managed to find a wave, and the shape of the surrounding coastline means there is an offshore wave to be found in almost all prevailing wind directions. Get in before the crowds and find out for yourself what makes Krui so special!
Although Surfing is the predominant reason for visiting the region, the region of Lampung is simply stunning, and is definitely not just a surfing destination. Situated a short drive from the Taman Bukit Selatan National Park, home to Orangutan, Gibbons ("Black Orangutan" to the local people), Sumatran rhinoceros including a recently found mum and baby, 40 tigers and numerous other interesting and exotic species, there are a number of trips available in the area that can take you into the park, or if you're lucky, you might see the animals closer to town. Just a few weeks ago, we had gibbons swing through the trees near the beach in the middle of town!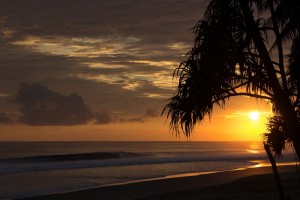 As well as the National Park, Banana Island is just a 45 minute boat ride off the coast, with a small village, many monkeys and a right- and left-hander that break depending on swell and tide.
The town of Krui is known for its Marlin, and is a fantastic place to head out fishing, and many of the best surf breaks are home to beautiful live coral reefs where turtles and tropical fish swim under you while you wait for a wave.
What are you waiting for? Get in before the crowds and find out for yourself why no one can keep Krui a secret much longer.